Remote Cross-training Central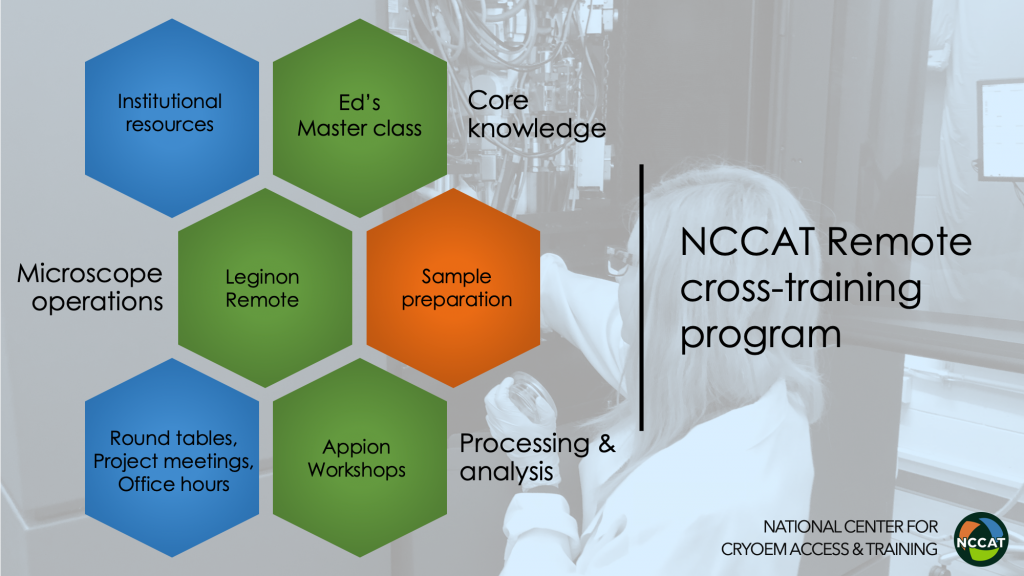 Remote cryoEM Master Class
NCCAT's Remote Master class aims to ensure a trainee's foundational concepts in the art and science in the field of cryoEM by focusing on applied theory and practicals to reinforce core knowledge.
cryoEM theory
Core knowledge - cryoEM001
Learn about cryoEM
• NCCAT Remote Learning Central
• SEMC NRAMM NCCAT YouTube channel
• SEMC Rogues Gallery – what to be wary of
Ed's cryoEM masterclass
Lectures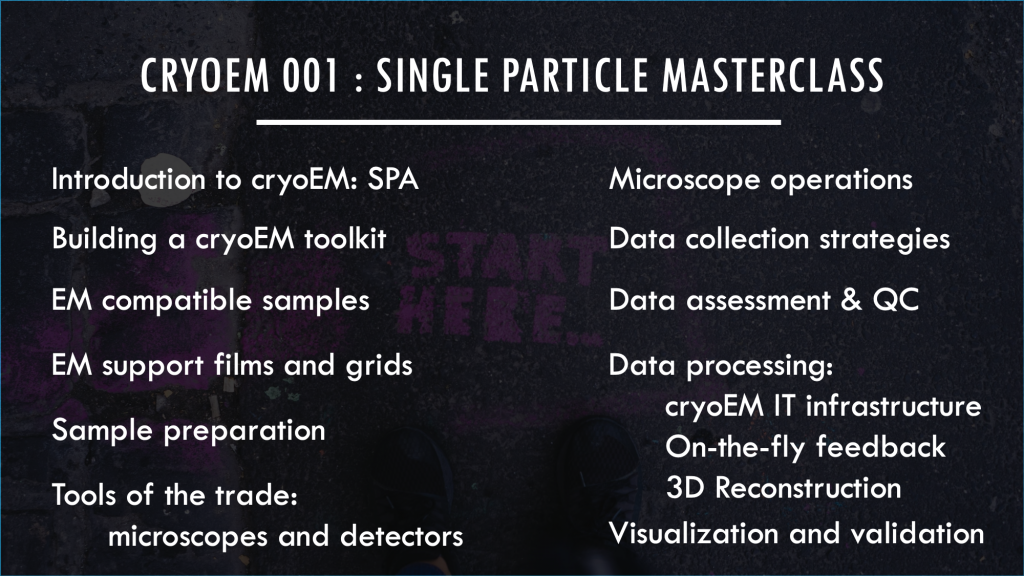 Practical sessions
---
Supplemental cryoEM masterclass materials
Negative stain


Plunge freezing
Remote Sample Preparation Module
Remote microscope operations cannot completely replace in-person instruction, but it aims to educate and familiarize trainees with the tools of the trade through virtual shadowing for EM specimen preparation focused on single particle analysis applications in a TEM.
Proficiency badges in cryoEM sample preparation
We have broken the sample preparation module into merit badges to help organize the training program. Each merit badge has a worksheet with information on the requirements necessary to be completed for the badge. Users should contact the NCCAT User Office to begin working on a particular merit badge. Once the requirements are completed, the user may meet with your User Coordinator to complete the theoretical portion and arrange an appointment to demonstrate the practical portion of the worksheet. After successful completion of the merit badge requirements, the user can then receive a merit badge.
Sample preparation
The start of a cryoEM project.
Negative stain
Room temperature work
MB1
Making use of electron dense salts to visualize a macromolecule.
Support films
Room temperature work
MB2
Adding support films to a grid.
General handling
Cryogenic work
MB3
Handling, Storage, Shipping & Safety for cryogenic work.
TFS Vitrobot
Cryogenic work
MB4
Plunge freezing and instrument certification for Vitrobot Mark IV.
Leica EM GP
Cryogenic work
MB5
Plunge freezing and instrument certification for Leica EM GP or GP2.
MB6
Plunge freezing and instrument certification for Gatan CP3.
MB7
Instrument certification for a manual plunge freezer.
MB8
Instrument certification for operation of STP Labtech Chameleon.
Autoloaders
Cryogenic work
MB9
Autoloader certification: clipping, nanocab care and sample loading/recovery.
Remote Microscope Operation Module
Remote microscope operations cannot completely replace in-person instruction, but it aims to educate and familiarize trainees with the tools of the trade through virtual shadowing and remote operations using Leginon.
Leginon Remote – Remote Krios operations
Remote Pre-processing Module
Remote data collection pre-processing feedback at NCCAT and data analysis tools.
Appion pre-processing pipeline
On-the-fly pre-processing
About Appion
• Appion for Dummies (quick guide)
Appion Workshop Series
Appion Workshop Part 1: 2D Analysis
The Appion Part 1 Workshop provides hands-on training for the Appion single-particle data processing workflow. Appion is a "pipeline" for processing and analysis of EM images; it is integrated with Leginon data acquisition, but can also be used stand-alone after uploading images or particle stacks. Topics include analyzing the quality of your data collection, correcting the CTF, generating and cleaning up stacks, and generating 2D class averages.
Appion Workshop Part 2: Single Particle Analysis – 3D Reconstruction
Appion Part 2 Workshop is a follow-on to the Part 1 workshop and will focus on 3D initial models and refinement. Utilizing AWS Cloud services it provides a foundation in not only the SPA workflow but current best practices in data processing and analysis.
Slides from previous Appion part II-20190919
Handouts for Appion Part II: cryoSPARCv2-handout RELION-handout
Additional handouts: Cryo-EM Workshop notes for using cryoSPARC from ACA2019 workshop
cryoSPARC Live and data analysis workflow
On-the-fly feedback and data analysis
About cryoSPARC
cryoSPARC Live
What is it?
CryoSPARC is a state-of-the-art scientific software platform for cryo-electron microscopy (cryo-EM) used in research and drug discovery pipelines. cryoSPARC Live is the first full pipeline real-time platform for cryo-EM data processing that is built upon cryoSPARC.
Handouts and tutorials
• NCCAT cryoSPARC tutorial_printable
Case studies (a reading list)
Aim: To review the origins, developments, and applications of cryo-EM methods and concepts.
SPA reading list
The beginning
• Why electrons? (Henderson, 1995)
• Effect of defocus and aberrations (Erickson & Klug, 1971)
• Biological objects are weak phase, weak amplitude objects; 7% amplitude contrast (Toyoshima & Unwin, 1988)
Sample preparation (purification, GraFix, air-water interface, grid types, sample supports, glow discharging or plasma cleaning)
• Air-water interface (Nobel et al)
• Grafix (Stark)
• Graphene / plasma cleaning (Russo & Passmore)
Data collection (100 vs 300 kV – Henderson, Lander, motion correction / movie mode, dose weighting, small particles)
• High resolution of small complexes (200 kV scope, Gabe Lander)
• 100 kV cryo-EM (Henderson & Russo)
• 200 kV cryo-EM to <3A (Lander)
• Comparing detector DQEs (McMullon & Henderson)
• Zernike phase plates (Danev)
Data processing (particle picking and Einstein from noise — HIV trimer, box size selection – Rosenthal & Henderson 2003, 2D and 3D classification, projection slice theorem)
• Focused classification of ribosomes (Klaholz)
• Einstein from noise / HIV trimer (Mao)
See this series:https://www.pnas.org/content/110/30/12438, https://www.pnas.org/content/110/45/E4172, https://www.pnas.org/content/110/45/E4175, https://www.pnas.org/content/110/45/18037, https://www.pnas.org/content/110/45/E4178
• Motion correction (Grigorieff)
• Electron counting and motion correction (Cheng)
• Gold grids (Russo & Passmore)
• FRC/FSC commentary (van Heel & Schatz)
• RELION (Scheres, 2012)
• cryoSPARC (Punjani et al)
NCCAT virtual tour
See what happens daily at a national cryoEM facility.
General Cross-training Components
Embedded Cross-training Modules
Objectives:
Learn about different parameters during grid preparation that affect sample quality and ice thickness.
Milestones:
• Reproducible sample preparation of a test sample with the Vitrobot Mark IV, Leica GP, and/or CP3.
• Identify sample preparation conditions for an applicant's driving biological project and to prepare grids reproducibly.
Objectives:
Learn about the operation of screening microscopes and Krios microscopes. Learn which alignments are important for obtaining high-quality data on an EM, how to check if it is aligned correctly and how to do the alignments.
Milestones:
• Check the alignments on an EM and be able to adjust them if necessary.
• Know the most common errors occurring on an EM during operation and how to deal with them.
Objectives:
Learn to assess if a sample is ready for data collection, what to check on the microscope before starting a long data collection, and how to operate the Leginon acquisition software. Furthermore, judging how many micrographs would be necessary for a reasonably good structure by looking at the micrographs and pre-processed data.
Milestones:
• Set up a data collection from a test sample and obtain enough data to get a high-resolution structure.
• Determine data acquisition parameters for applicant's sample and collect enough data for an initial 3D model.
Objectives:
Learn how to use on-the-fly processing through Appion to optimize a data collection experiment in real time. After data collection is complete learn to process data with commonly used software packages and pipelines (RELION3 and cryoSPARC) from motion correction to 3D model refinement.
Milestones:
• Obtain a high-resolution structure from a test data set with commonly used software packages.
• Process a data set from the applicant's own sample and obtain a 3D model.
    Meet the cross-training team