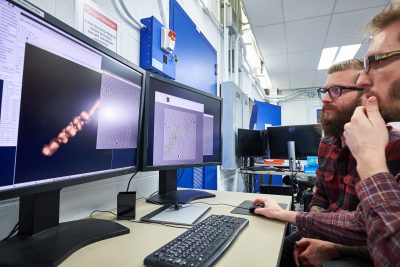 Room and board not included.
Note, there is limited on-site availbility. Please do not book travel and housing until you are accepted into the short course. If you are not accepted into the short course, then you have the option of joining the videocast of the morning lectures.
Questions? Email nccatinfo [at] nysbc.org.
Tomography Shortcourse
April 13-17, 2020
SEMC and NCCAT will be offering a 1 week workshop focused on the theory and practice of tomographic methods. The mornings will have lectures and stimulating round table discussions. The afternoons provide hands-on practicals to reinforce fundamental concepts and topics covered earlier in the day.
Day 1: Monday, April 13, 2020
Morning

Roundtable : Welcome
Lecture1 : Keynote – Intro and overview of ET – Wei Dai (Rutgers University)

Afternoon

Practical1 : ET sample preparation – HPF/Plunge freezers
Practical2 : cryoCLEM-FIB-ET workflow
Day 2: Tuesday, April 14, 2020
Morning

Lecture2 : FIB-SEM – Bill Rice (New York University)
Roundtable : Making windows into cells

Afternoon

Practical3 : Krios cryoET data collection
Day 3: Wednesday, April 15, 2020
Morning

Lecture3 : Cryo-Applications and sub-tomogram averaging – Alex Noble (NYSBC/SEMC)
Roundtable : Choosing the right in situ target and model system

Afternoon

Practical4 : Appion Protomo tools and sub-tomogram averaging
Day 4: Thursday, April 16, 2020
Morning

Lecture4 : Annotation and interpretation of tomographic data – TBD
Roundtable : The future of in situ cellular structural biology

Afternoon

Practical5 : Appion Protomo tools and sub-tomogram averaging (cont.)
Practical6 : Annotation using CNN

Evening
Day 5: Friday, April 17, 2020
Morning

Roundtable : Wrap up and Farewell